Photoshoot Location:
Anime Iowa '10
Date:
08/01/10
Series:
Axis Powers Hetalia
Full Galleries:
[
Flickr Gallery
]
Cosplayers:
abarero
as Prussia & Movie!America,
haro
as Movie!England,
pantstacular
as Austria & Movie!France and
sakuratsukikage
as Movie!America & Movie!Japan.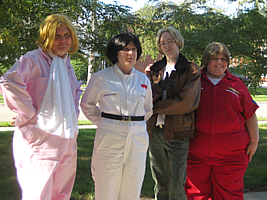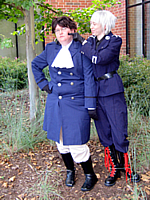 America, being awesome:
Srs pose
Hero pose
America/England, being cute:
Austria, being dignified and refined:
(and wearing pink music note earrings)
Prussia and Austria:
Prussia, being "awesome":
...it fucking sat on my head!
Prussia loves his chicks
And his pink!chick bag!
S-So A-Awesome~ *.*
Awesome Duo:
Prussia is so special and awesome, America isn't quite sure what to do!
Srsly awesome!
And more Movie!Cosplay photos:
America and Japan, using their awesome karate moves on the aliens:
Japan finds this easier without his shoes, so America helps him get ready.
KICKING ASS AND TAKING NAMES. OH YEAH.
GROUP PHOTOS: